Gapho' Coarse Wavelength Division Multiplexer (CWDM) is expanding the bandwidth of Metro/Access communications networks.
Gapho'

CWDM is based on thin film filter technology and metal bonding micro optics packaging.

Gapho

provides high quality CWDM with flat channel bandwidth, flexible channel configuration, low insertion loss and high isolation. It is designed to upgrade capacity easily as the system grows. All

Gapho

products are epoxy-free in the optial path.

Gapho

' CWDM components provide an ideal balance of price and performance for multiplexing and dumultiplexing in Metro/Access networks.
Key Features:


◆
Telcordia GR-1221 and GR-1209 Compliance
◆
Customized Specifications Available
Application:


◆
Longhaul/Metro Communication Networks
Specification:







1470 (or 1471)~1610 (or 1611) nm








Maximum Insertion Loss (with connectors)




Minimum Adjacent Channel Isolation




Minimum Non-adjacent Channel Isolation








Maximum Thermal Dependent Loss




Maximum Polarization Dependent Loss




Maximum Polarization Mode Dispersion




Maximum Channel Uniformity


















Package Dimensions(L x W x H)

120 x 80 x 8 mm (standard)



Note:
Operating wavelength from 12070 (or 1271) to 1450 (1451) nm is also available


Spectrum::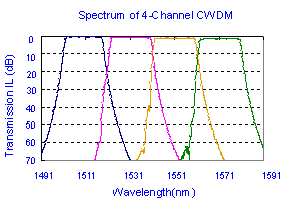 Packaging Dimension: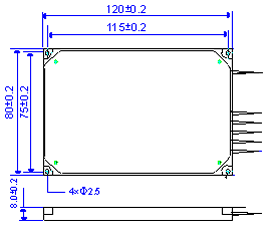 Ordering information:


No.

Type

Central Wavelength

Insulation

Pigtail length

Connector style

Package dimension




LW-CWDM

WDM,

WDM-AD,

CWDM

1=1510/1530;

2=1530/1550;

3=1510/1550;

4=1530/1570;

5=1310/1510/1530;

6=1310/1510/1530/1550;

7=1310/1510/1530/1550/1570

1=Standard,

2=High

1=1M,

2=2M,

…..

SC/UPC,

SC/APC,

FC/UPC,

FC/APC

A= 105.2(L)*78.5(W)*12.7(H)( 900um lose tube)

B=105.2(L)*78.5(W)*12.7(H)( μ3.0mm PVC tube)
For drawings, technical data or samples configuration other than stated above, please feel free to contact us: sales@gapho.com